**UPCOMING EVENTS**
Join us at the next BSG Seminar Series on 'Messy rivers are healthy rivers: the role of spatial heterogeneity in sustaining river ecosystems' by Professor Ellen Wohl.
Overview of our recent events
This months seminar series is being run by Professor Ellen Wohl on 'Messy rivers are healthy rivers: the role of spatial heterogeneity in sustaining river ecosystems'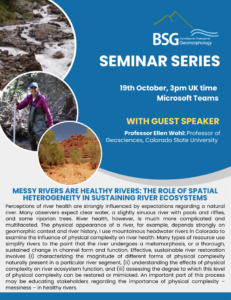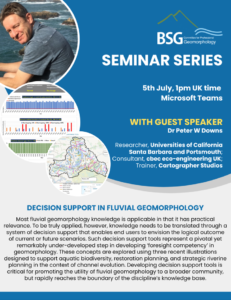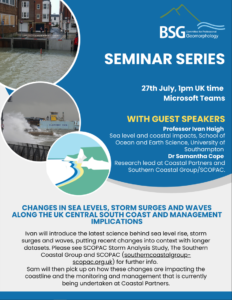 At the beginning of May, the Committee for Professional Geomorphologists, at the British Society of Geomorphology (BSG) invited Professor Joe Wheaton (Utah State University) to deliver a workshop on the use of low-tech options to restore natural processes to members of the BSG.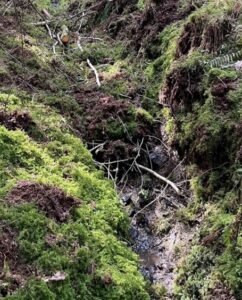 The workshop was all about the use of… wood, wood and more wood! A low-tech, low-cost material, that can be hand-built within rivers to help kickstart na
tural processes. The workshop focused on two types of low-tech wood structures:
Beaver Dam Analogues (BDAs) – a permeable, channel-spanning structure with a constant crest elevation, constructed with a mixture of woody debris and fill material to form a pond and mimic a natural beaver dam.
Post Assisted Log Structures (PALS) woody material of various sizes pinned together with untreated wooden posts d
riven into the substrate to mimic natural wood accumulations.
Our riverscapes (the river and floodplain area) have been extensively modified – rivers have been straightened, enlarged, deepened and floodplains altered. As a result, rivers lack space, complexity and diversity to support a variety of habitats and species. Adding wood into river channels can help to kick-start natural processes by encouraging more variable flow paths and patterns of erosion and deposition.
The workshop was held at the Rheged Centre, near Penrith and on-site at a National Trust owned plantation near Bassenthwaite Lake. We learnt about the theory of using wood and then had a go at installing and creating wooden structures in a network of drainage channels. The workshop was a great way to learn about the theory and practicalities of using these techniques.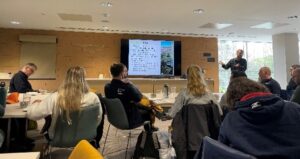 Key lessons: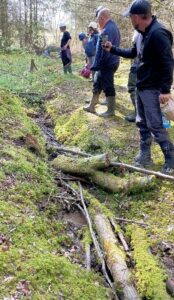 Installing wood in rivers is not a new technique! Fallen trees, branches, beaver dams are features of rivers which have been lost over time. These are simple low-tech solutions that can easily be implemented in all our rivers.
It's ok to be
messy when building wood structures and use all the local materials available (e.g., wood, stones, mud moss). Leave the branches and leaves on trees as they help to create flow diversity.
There is strength in numbers – create multiple structures to mimic and kickstart natural processes
'Breaches' or 'blow outs' of wood structures are not a failure, these in turn can provide improved and more complex habitat.
The freely available manual of Low-Tech Process Based Restoration design manual (www.lowtechpbr.restoration.usu.edu), pocket field guide
(www.lowtechpbr.restoration.usu.edu/resources/pocket) and workshop modules (www.lowtechpbr.restoration.usu.edu/resources/Topics/)  are great resources for learning about these structures, how to build them and providing examples.
Hannah Joyce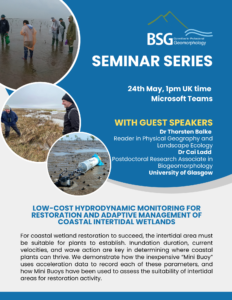 A "roadmap" for UK flood hydrology over the next 25 years was published in March 2022 after a 47 month co-creation process involving more than 270 people and 50 organisations from different sectors and technical disciplines.  It is a costed, long-term plan covering all facets of flood hydrology in the UK.  This talk explored the roadmap's development, highlighting key actions and discussing funding and expected outcomes.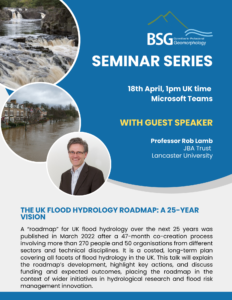 Understanding the geomorphological power of animals in our rivers is key as they can move sediments, offer structure and stability to river beds and banks.  This session explored the interactions in more detail.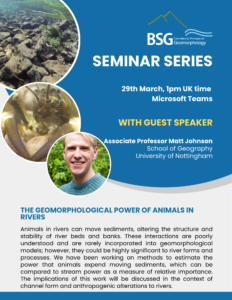 Join us on January 17th to hear from Associate Professor Ann Rowan from the University of Bergen. She will be telling us all about monitoring and understanding glacier change in the Himalayan region.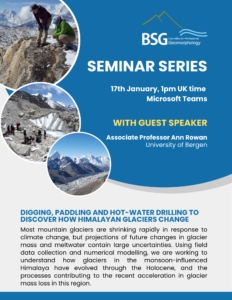 Large wood in rivers
This event covers large wood in rivers by Professor Virginia Ruiz-Villanueva and Janbert Aanink from the University of Lausanne. More information here.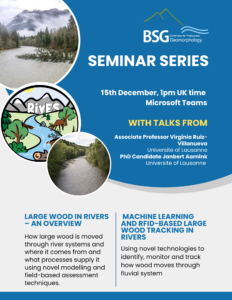 As part of the BSG Annual meeting, we held a site visit to Haugh Head Ford and other large-scale river restoration sites in Northumbria. This gave academics and practitioners an insight into the challenges of restoring large gravel-bed rivers, and how these sites can help us adapt to climate change while addressing the biodiversity crisis.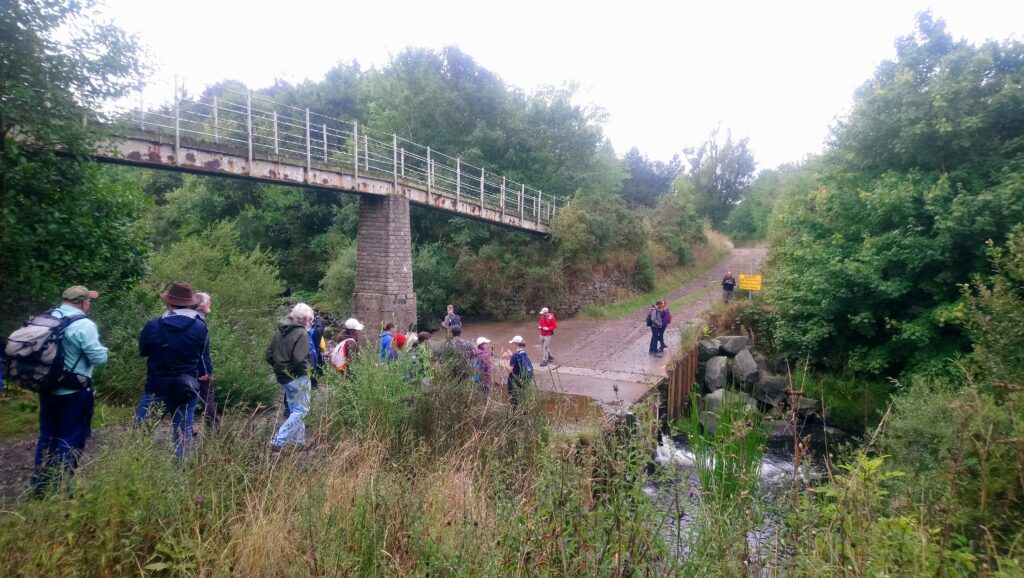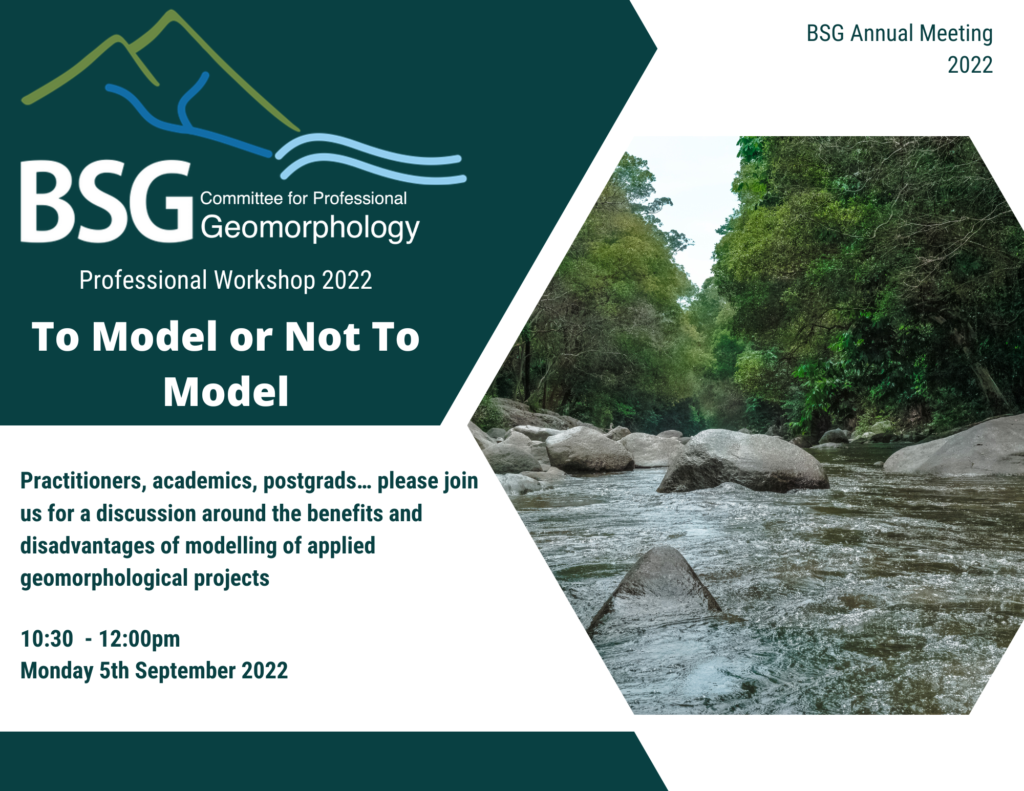 In May 2022 the Committee for Professional Geomorphologists ran a virtual conference with a range of speakers, and an in-person meet up in the Evenlode catchment, Oxfordshire.  Here's a summary.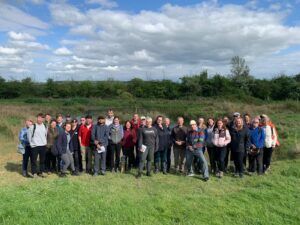 We need to plan to manage runoff and sediment in our catchments at ambitious scales. Understanding and managing connectivity of natural physical processes across our landscapes is central to this. We need to start with soil health and manage the linkages between the field and the river, and the river and the floodplain all the way to the coast. We need think 'bigger, better, more and joined up' for natural physical processes. Geomorphologists can help us to consider these processes and how best to work with nature to achieve multiple benefits.
The British Society for Geomorphology Committee for Professional Geomorphology led a successful multi-sectoral, two-stage CPD event for practitioners around the theme of connectivity in May: 'Understanding and managing connectivity'. First, over 70 geomorphologists attended a virtual event, with presentations from Jo Shanahan (EA geomorphology national team), Ivan de Klee (from the Knepp estate) and academics Profs. John Boardman and Ian Foster – plus several 'lightning talks' from practitioners and postgraduates. Next, over 40 geomorphologists met at FarmED in Oxfordshire for two days of site visits to the River Dorn and Charlbury Weir to explore issues and approaches to managing lateral and longitudinal connectivity. The event generated lively discussion and the opportunity to share ambitious best practice between academics, consultants, charities and trusts, and the regulatory sector.
A recording of the webinar virtual event can be found here.
Jo Shanahan (Environment Agency)
In addition to the training and networking events above, remember that the BSG also runs: